Tachyon 390 Cross Assembler and
Tachyon z/Assembler 2.1 Announcement
---
January 21, 2001:


Tachyon Software is pleased to announce Linux for S/390 and Linux for zSeries programming support for the Tachyon z/Assembler. In addition to the GOFF object file support included in version 2, the Tachyon z/Assembler supports creation of the object file in ELF format. ELF is the object file format supported by many UNIX variants, including Linux. ELF support in the Tachyon z/Assembler will make it possible to create Linux for S/390 and Linux for zSeries programs using the traditional HLASM-style assembly language. The Tachyon z/Assembler can also run on Linux for S/390 and Linux for zSeries.
Other enhancements in version 2.1 of both the Tachyon 390 Cross Assembler and the Tachyon z/Assembler include:
Support for delimited EBCDIC source and macro files (like OS/390 HFS text files) and macro and copy files stored in UNIX tar files.
A new command-line interface program that invokes the assembler once for each assembler source file specified.
Enhanced ASCII support through CA and CE DC constants, literals and self-defining terms as well as the new TRANSLATE(AS,SELF) option.
The new FLAG(RA) option can be used to flag all relocatable address consants in movable code.
The new FLAG(HLASM) option enables some enhanced error checking available with IBM's HLASM. These error checks can be disabled to prevent problems with older source code.
The new TERM(EVENT) option causes the assembler to generate the SYSTERM file in IBM EVENT format for IBM's VisualAge TPF.
The new OPTABLE(ZOP) instruction set option includes only the z/Architecture instructions (Tachyon z/Assembler only). The OPTABLE option also supports the new LIST parameter which causes the assembler to print a summary of the supported operation codes.
Details of the changes in this release are available in the Changes section of the Tachyon 390 Cross Assembler and Tachyon z/Assembler User's Guide.
---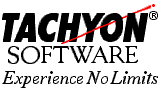 E-mail: info@tachyonsoft.com
Voice: +1-303-722-1341 Fax: +1-303-991-6235

Trademark acknowledgments
© Copyright 2001-2007, Tachyon Software® LLC.
Last modified on April 30, 2007