Tachyon Assembler Workbench
Version 2.0 Announcement
---
September 29, 2000:
Tachyon Software is pleased to announce the availablity of version 2.0 of the Tachyon Assembler Workbench. The Tachyon Assembler Workbench includes all new versions of the Tachyon Software products: the Tachyon 390 Cross Assembler, the Tachyon File Tools and the Tachyon Operating System.
The Tachyon Assembler Workbench is now available in several editions so you can get exactly the power you need:
Personal Edition

Advanced Edition

Developer's Edition

Professional Edition
If you don't yet have a copy, you can download a demonstration copy and try it for yourself.
---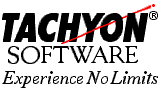 E-mail: info@tachyonsoft.com
Voice: +1-303-722-1341 Fax: +1-303-991-6235

Trademark acknowledgments
© Copyright 2000-2007, Tachyon Software® LLC.
Last modified on April 30, 2007