Tachyon File Tools
---
If you need to work with mainframe files on your personal computer, you need the Tachyon File Tools.
The Tachyon File Tools now includes four utilities:
With Tachyon Un-Xmit you can quickly extract data sets from a TSO TRANSMIT file in a wide variety of formats. You can unload an entire partitioned data set or just selected members. Sequential data sets and PDS members can be converted to ASCII, extracted as record-oriented EBCDIC files or printed in dump format. Load library members can be delinked into object files and then relinked to be run by the Tachyon Operating System.

The new Tachyon Re-Xmit allows you to create TSO/E TRANSMIT files from files on your workstation, including load libraries from modules linked by the Tachyon Linkage Editor. The TRANSMIT files can then be uploaded to the mainframe and unloaded into sequential or partitioned data sets using the TSO/E RECEIVE command.

With the Tachyon Update Utility you get real "IEBUPDTE" function right on your personal computer. ADD, CHANGE, REPL, REPRO, NUMBER and DELETE statements are supported. You can apply changes to ASCII or EBCDIC files or extract members from a file containing ADD statements. If you have the Tachyon Operating System, you can even run the Tachyon Update Utility using standard JCL.

The Tachyon Linkage Editor creates load modules for use with the Tachyon Operating System or for uploading to the mainframe using Tachyon Re-Xmit. The linker will link-edit the output of compilers that generates standard Object Module Format (OMF), Extended Object Module Format (XOBJ) or Generalized Object File Format (GOFF) object files. These object files can be generated by the Tachyon 390 Cross Assembler, Tachyon z/Assembler or any mainframe compiler or assembler. Even the options and listing are similar to the mainframe linker.
To learn more about this product please see Tachyon File Tools User's Guide. You can preview the product before you buy it.
---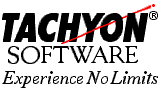 E-mail: info@tachyonsoft.com
Voice: +1-303-722-1341 Fax: +1-303-991-6235

Trademark acknowledgments
© Copyright 1999-2007 Tachyon Software® LLC.
Last modified on April 30, 2007